HALO Roof Climb
An enjoyable walk on top of the World's Most Beautiful Stadium.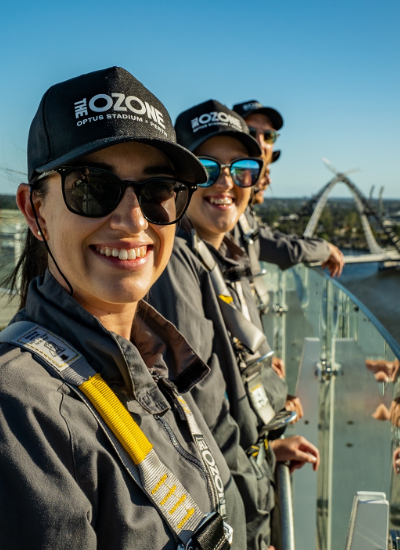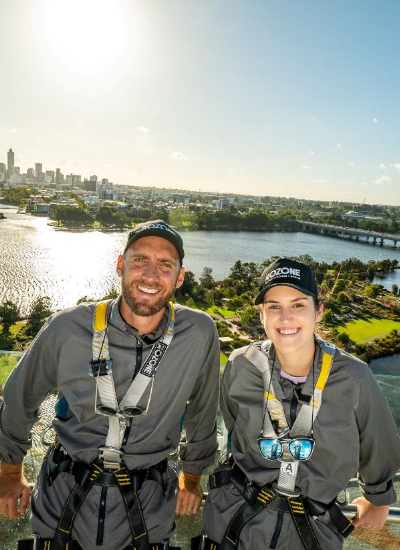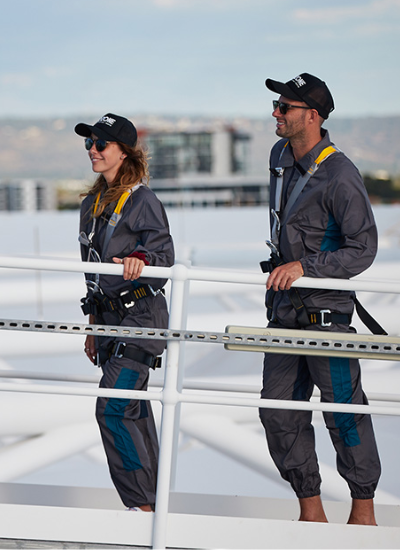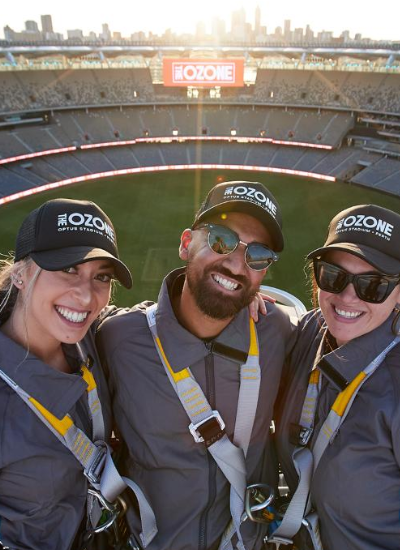 Likely to sell out
Incredible views of Perth
Climb 42 metres above the ground to experience HALO, Perth's biggest rooftop climb!
Safe and secure, take the 360-degree walk around the roof, where you'll hear stories about Optus Stadium as you enjoy unrivalled views of the surrounding skyline. You'll learn about the stadium's impressive construction, state of the art facilities, and get behind-the-scenes insights on game day operations.
Worried about heights? We've got you. Our experienced Tour Leaders will make you feel at home on top of Optus Stadium's roof. Locked on for your peace of mind, you can focus on the spectacular views.
Included in this 90-minute rooftop tour is access to the Western Viewing Deck, giving you even better views of the Derbarl Yerrigan (Swan River) and unique views of Perth City from the stadium's highest vantage point.
Tour Duration
90 minutes of breathtaking fun
Tour Inclusions
Your unique rooftop experience includes all digital images for you to share with friends and family.
All tour participants will receive a branded hat, along with 10% off merchandise in THE OZONE store.
Requirements
You must meet the criteria listed below to experience HALO:
Over 8 years of age
Minimum 1.2 meters tall
Minimum 30kgs in weight
Maximum 134kgs in weight
Be under 0.05% blood-alcohol concentration
All child bookings must be accompanied by a paid participating adult
Fitness requirements
You should have a general level of fitness and be physically and medically fit to take part. No specific training is required before the HALO tour, however, you will be given a safety briefing and guidance from your Tour Leader on the day.
Disability or medical condition
Disabilities and medical conditions are different for everyone. If you're unsure speak to your GP and complete our Medical Form. If you are over 75 years of age or pregnant you must also submit the Medical Form signed by your GP, no later than 3 days prior to your tour. The Medical Form is available to download here.
If you're a wheelchair user or have accessibility requirements please ensure you contact us directly to make your booking. It's important to ensure we can accommodate you on the tour and ensure your safety.
What to wear
You must wear enclosed, flat shoes. We recommend sports shoes or something comfortable with some grip.
Wear light and comfortable clothes such as active wear or shorts/tracksuit pants and t-shirt/jumper depending on the weather.
Don't forget your sunglasses and to apply sunscreen to your face and hands.
Legal Requirements
Before completing the tour you'll need to read our Terms & Conditions.
Still have questions? Please visit the FAQ's for more information.
Tickets & Pricing
Reviews
Chad
January 2, 2022
The HALO Tour was amazing and nothing like I'd ever done. Alex was funny and knowledgeable and made everyone feel secure on the tour.
Ellen
November 16, 2021
I have taken two people separately on the general Tour and both were great. The tour guides were so informative and learning about all the different things that go on behind the scenes. I have also just had the privilege of doing the HALO Tour with my grandson and it was Amazing. We both had a brilliant time.
Donna from Singapore
January 9, 2022
The weather was great and the tour guides were fantastic and knowledgeable, especially Ron. Anyone can do this tour, even my 8 year old, as long as you can climb the 78 steps up. The view up there was breathtaking and not everyone can get a chance to see and experience the insight of a world-class stadium. Thank you for having this tour, and looking forward to more.