Vertigo
Step off the roof and out of your comfort zone!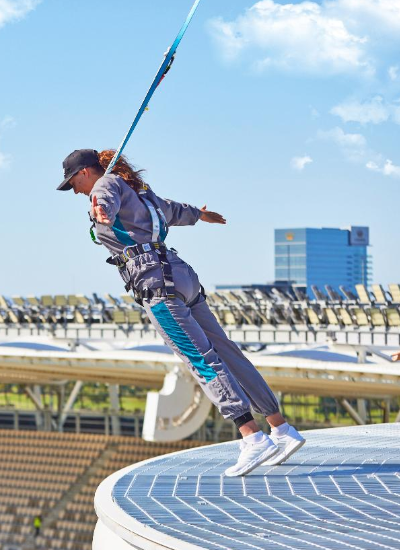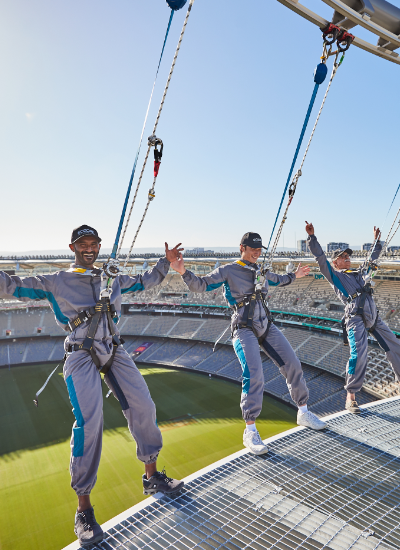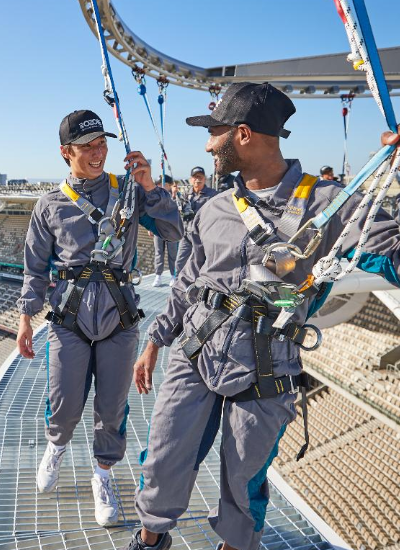 Bestseller
The perfect gift
Experience Perth's biggest rush with VERTIGO!
As you step onto Optus Stadium's roof, you'll be rewarded with breathtaking views of Perth City and the stadium below.
Then, harnessed from above, step bravely onto the platform and hang out 42 metres above the ground and feel the rush! Did we mention there's no handrails?
Dare to challenge yourself on this 90-minute rooftop experience, which includes access to the Western Viewing Deck, where you'll take in the sights of Derbarl Yerrigan (Swan River) and incredible views of the City skyline.
Tour Inclusions
Your unique rooftop experience includes all digital images for you to share with friends and family.
All tour participants will receive a branded hat, along with 10% off merchandise in THE OZONE store.
Requirements
You must meet the criteria listed below to experience VERTIGO:
Over 10 years of age
If you are over 75 years of age you must also submit a Medical Form
Minimum 1.2 meters tall
Minimum 40kgs in weight
Maximum 134kgs in weight
Be under 0.05% blood-alcohol concentration
All child bookings must be accompanied by a paid participating adult
Fitness requirements
You should have a general level of fitness and be physically and medically fit to take part. No specific training is required before the VERTIGO tour, however, you will be given a safety briefing and guidance from your Tour Leader on the day.
Disability or Medical Conditions
Disabilities and medical conditions are different for everyone. If you're unsure speak to your GP and complete our Medical Form. If you are over 75 years of age or pregnant you must also submit the Medical Form signed by your GP, no later than 3 days prior to your tour. a The Medical Form is available to download here.
If you're a wheelchair user or have accessibility requirements please ensure you contact us directly to make your booking. It's important to ensure we can accommodate you on the tour and ensure your safety.
What to wear
You must wear enclosed, flat shoes. We recommend sports shoes or something comfortable with some grip.
Wear light and comfortable clothes such as active wear or shorts/tracksuit pants and t-shirt/jumper depending on the weather.
Don't forget your sunglasses and to apply sunscreen to your face and hands.
Legal Requirements
Before completing the tour you'll need to read our Terms & Conditions.
Still have questions? Please visit the FAQ's for more information.
Tickets & Pricing
Reviews
Hannah
June 12, 2022
Thoroughly enjoyed the experience, was better than what I expected. The views are amazing. Our Roof Tour Leader, Alex, and the tech staff are the reason the tour was so enjoyable. They made us feel safe and were very funny. They repeatedly checked our harnesses were on correctly and were very knowledgeable.
Bruce
May 21, 2022
The staff made the experience. They made the whole experience more exciting, always showing empathy & understanding of those who were trying to push their own personal boundaries, but who were in need of assistance from staff to get them there. Ron, Phoebe; Tour Leader, Tech team - Sensational. Even the Admin staff who weren't involved on the tour. All fantastic, approachable & understanding. Their ability to change/upgrade my original HALO tour to the VERTIGO tour was done with ease.
Barry
June 3, 2022
I did the VERTIGO Experience at sunset it was a great way to see the stadium. Great tour guide great knowledge puts a bit of comedy in to lighten things. Tech guys made the experience up the top for the hang out comfortable and fun. May scare some people but I loved it.